Schachbox-Weltmeisterschaftskampf in Sibirien: Nikolay Sazhin, 19, verteidigt erstmals seinen Titel im Halbschwergewicht. Sein Herausforderer Leo Kraft ist 17 Jahre jung – und bereits ein alter Hase.
Von Helmut Kuhn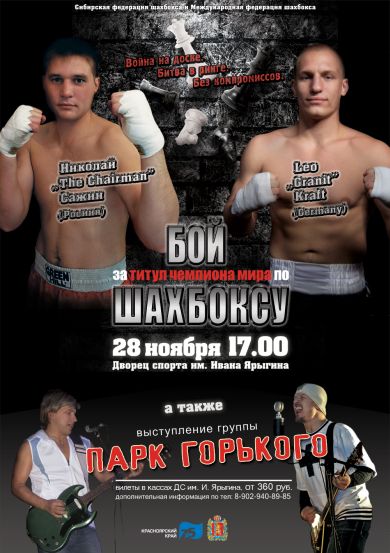 Wenn Nikolay Sazhin am 28. November im krachkalten Krasnoyarsk, 4100 Kilometer östlich von Moskau gelegen, zum ersten Mal seinen Titel verteidigt, trifft der gerade mal 19jährige auf den jüngsten Aspiranten auf einen Titel im Schachboxen, den es je gab: Leo "Granit" Kraft ist 17 Jahre jung. Doch sein Kampfrekord ist der eines alten Haudegens: in 50 Kämpfen gewann er 45 mal und belegte zuletzt bei den Europameisterschaften der Junioren in Sofia den fünften Platz. Auch auf dem Brett ist der gebürtige Weißrusse mit einem Elo-Rating von 1997 dem Titelverteidiger Sazhin (Elot-Rating: 2005) durchaus gewachsen. Er wurde gerade von der unlängst gegründeten German Chess Boxing Organisation (GCBO) als deutscher Fighter adoptiert.
Es ist die erste Schachboxweltmeisterschaft, die auf russischem Boden unter der Schirmherrschaft der Siberian Chess Boxing Organisation (SCBO) in Zusammenarbeit mit der WCBO stattfindet. Sazhin stammt aus Krasnoyarsk und ist Student des Istitute of Space and Information Technology der Siberian Federal University. Er hat einen Kampfrekord von 95 bei 85 Siegen. Sazhin gewann den Titel, als der bisherige Weltmeister "Anti-Terror" Frank Stoldt in seinem Titelverteidigungskampf in der 5. Schachrunde nach dem Verlust der Dame das Handtuch warf (Frank, das werden wir nie vergessen und schon gar nicht vergeben: Knöpf dir den Gewinner des Pfadfinderduells vor und mach ihn platt! Keine Gefangenen! Wir wollen das junge Gemüse im Staub sehen!)
Die Veranstaltung wird unter vermutlich eisigen Bedingungen mit kalten Nasen aber heißen Herzen ausgetragen und von der legendären Gruppe Gorki Park musikalisch adäquat unterstützt. Es ist ein weiterer Meilenstein auf dem Siegeszug des einzigartigen Hybridsports. Dass ausgerechnet Sibirien ein Hort der WM ist, liegt auf der Hand. Russen, besonders solche, die in der Verbannung ein wenig Zeit hatten, sind nicht nur Boxfans, sondern auch ausgezeichnete Schachspieler.
Dem Event, das in Ivan Yaygin Palace of Sport um 17.00 Uhr Orstzeit beginnt, darf mit einiger Spannung entgegen gefiebert werden.
Iepe fährt hin, Buchungen möglichst bald vornehmen, Wetten werden im Verein angenommen.